BOARD OF DIRECTORS

Rear Admiral Roy F. Hoffmann, Chairman
Larry Thurlow, President
Van Odell, Secretary
Weymouth D. Symmes, Treasurer
Virgil A. "Virg" Erwin, Board Member
Ernest J. "Bud" Kittle, Board Member
Captain Charley Plumly, USN, Ret., Board Member

Rear Admiral Roy F. Hoffmann, USN, Ret., a native of Missouri, served in the United States Navy from April 1943 to August 1978. During his long and distinguished career he served on eight ships and commanded four. He is a three-war veteran of World War II, Korea and Vietnam. During the Vietnam War he was Commander Task Force 115, the largest Navy task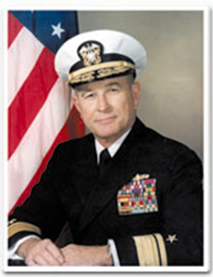 force in Vietnam. TF 115 included all Swift boats, U.S. Coast Guard cutters, surveillance aircraft, assigned naval gunfire support ships and mine sweepers. Admiral Hoffmann's commission was issued at the University of Notre Dame, and he holds a BS degree in chemistry from the University of Nebraska and an MS in International Affairs from George Washington University. In 2004 he founded and served as Chairman of Swift Boat Veterans and POWs for Truth. He is married to Mary Linn Hoffmann; they have five daughters and reside in Richmond, Virginia.
Larry Thurlow was born and raised in western Kansas. He graduated from Fort Hays State University in January of 1965. He entered OCS in Newport in November 1965 and was commissioned as an ensign in April of 1966. During the Vietnam War he served aboard the USS Princeton (LPH 5) and was Officer in Charge of PCF 10 operating out of An Thoi (Coastal Division 11) from 1968–69. Mr. Thurlow and his wife Patty reside in Bogue, Kansas and have three grown children.

During the Vietnam War Van Odell served as a gunner's mate on PCF 93 on the rivers and canals of the Ca Mau Peninsula. Mr. Odell is a graduate of Oklahoma State University and spent 21 years as an international exploration geologist. He is active in scouting and was a professional Scouter for the Boy Scouts of America. Mr. Odell owns and runs a custom furniture business in Katy, Texas, where he and his wife Sheila live.

Weymouth D. Symmes enlisted in the U.S. Navy in 1966. He served two years aboard the attack aircraft carrier USS Ticonderoga (CVA 14), completing two Far East Cruises to Vietnam. In 1969 he served as LPO aboard PCF 56 in the rivers and canals of the An Thoi area of operations in Vietnam. Mr. Symmes holds BA and MA degrees from the University of Montana. He is a retired banker from Missoula, Montana. He was one of the founders and first treasurer of the Swift Boat Sailors Association and served as treasurer for Swift Boat Veterans and POWs for Truth. He and his wife Terry split their time between Montana and Arizona.

Virgil A. Erwin III comes from a career Navy family. He served in the U.S. Navy from 1966–1970 as a commissioned officer. He served as Officer in charge of PCF 67 in Cat Lo, Vietnam from 1968–69. Mr. Erwin retired as Vice President, Worldwide Sales, for Entegris, Inc. He is a Board Member of the Swift Boat Sailors Association and the Vietnam Unit Memorial Fund. Mr. Erwin and his wife Jacqueline live in San Diego, California.
Ernest J. "Bud" Kittle is a Texas native. He enlisted in the U.S. Navy in September 1966 and served one year on the attack transport USS Montrose (APA 212). After a posting to Vung Tau, Vietnam, Mr. Kittle volunteered for Swift boats. He served aboard Swift boats in Cat Lo, Vietnam from July 1968 to July 1969. After completion of his military service Mr. Kittle graduated from Abilene Christian University with a degree in Criminal Justice and a minor in English. Mr. Kittle spent 30 years in law enforcement with the Dallas police department and the San Patricio County Adult Probation and Sheriff's Office. He and his wife Janie reside in Rockport, Texas and have two grown children.
Captain Charley Plumly, USN, Ret., a Maine native, graduated from the U.S.Naval Academy in 1955 and served 25 years in the surface navy. Fourteen of those years were spent at sea with nearly ten years in command of various classes of ships. In 1968, he served as Adm. Hoffmann's Deputy, in TF 115 in Vietnam. Captain Plumly served on the Steering Committee of the Swift Boat Veterans and POWs for Truth during and after the 2004 election. He and his wife Sibyl now enjoy retirement in their cabin in the beautiful mountains of North Georgia. Both their children and families reside in Atlanta.